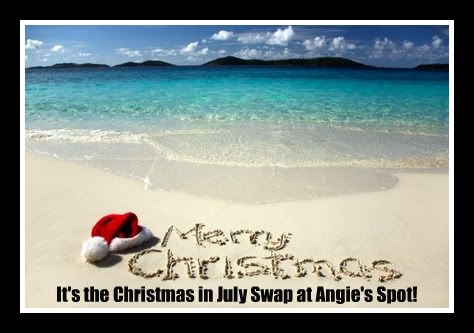 Ok so here's the deal. I have an addiction. My addiction is to giveaways, swaps and other interactions on the web. So after just finishing Sharon; from
Welcome to the nuthouse
swap, which is very cool and lots of fun, Angie from
Angies Spot
is having a Chrismas as in July Swap, tha sounds really fun.
The question asked is: What: What would you love to give as a gift, and what would you love to receive.
Since the limit is 25.00 dollars, I am probaly not going to get my Beamer, but that's OK! It will be fun anyway.
If you are interested in meeting new bloggers,. run do not walk over to Angies because she has a deadline and a limit of 50 people (whichever comes first) and sign up.
I really like to do this kind of thing to get to meet people from other parts if the country, I think that is the real fun in it. I have about 6 people whom I consider close blogger friends,
and I'd like to meet more people.
So I am truly excited! How about you, want to join in?